Fire and Life Safety of Hospitals
Mar 29, 2020
Fire Prevention & Life Safety measures are most essential ,critical & integral part of a building envelope to envisage ; to protect not only the life and property but also from the point of view of the business continuity of hospital building. In case of Hospitals or Healthcare facilities there are comparatively more challenges for the obvious reason that the main load of the occupancy on such premises is expected to be the infirm, ambulatory persons;patients in the ICU, Operation Theatres, Recovery rooms and wards. In normal business or residential buildings ,evacuation of the people may not be that tough as that of the Hospital buildings. Generally the following measures need to be considered:
The approach road to the Hospital building should be of not less than 18 metres width.
There has to be sufficient open space around the building to handle any emergency.
The width of the Staircases / Passages should be 3 m mandated by NBC ( National Building code )
Adequate Number of staircases ( at least 2 )in proportion to the occupational load.
Horizontal evacuation plan i.e. Building can be parted in such a manner that if part A gets affected , occupants from part A can be shifted to part B . And therefore for such emergency shifting of patients ,adequate space & facilities for patients & staff has to be planned with due diligence.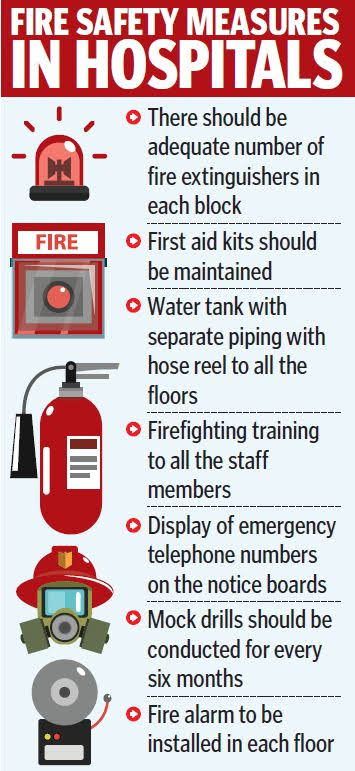 This virtual partition/ walls needs to be of 120 minutes fire resistance and have fire doors with 2 hours fire resistance. The circulation of all utilities through passages/ ducts carrying gas, oxygen,electric wires, Internet,water etc., should be properly sealed at every gap by passive fire protection material to restrict the spread of of fire /hot gases or any product of combustion from one compartment to the other compartment.
With all the oxygen cylinders and electronic equipment, hospitals are always at a high-risk for fire accidents.
The Emergency Management Plan (EMP) should be kept current so that it stands the unexpected occurrence of a fire in a hospital. Here are a few fire safety measures of a hospital that are proven to be effective.
A Detailed Action Plan – The fire accidents leave no room for thinking. A detailed action plan that has answers to all questions and needs ,will save time for thinking and help one to react instantly in the proper and correct manner . Involve all the departments of the hospital in the preparation of this action plan.
Incident Command Structure – Communication has vital importance in reducing the damage caused by a fire accident. Establish a functional incident command structure that has groups and subgroups. These groups and subgroups should form a tree of communication and be ready to follow the instructions of the group leader.
Fire Safety Evacuation Aids – Hospital evacuation is a challenging task and the fire safety evacuation aids will help you in this regard. There are many types of evacuation aids available in today's market. The hospital needs to be equipped with evacuation mats and sheet that can hold the patient firmly while shifting to a safer location.
The firefighting equipment that includes smoke detectors, fire alarms, emergency exit signals,sprinkler systems, fire extinguishers and other firefighting equipment should always be checked regularly. A performance check should be conducted along with the fire drills to ensure a quick response in the face of any danger.
Mock Drills and Fire Safety Training – This aspect has vital importance in reducing the damage and saving lives during a fire accident. Ensure all staff members undergo the fire safety training programs and participate in the mock drills. This not only creates a responsive and reliable team in case of a fire but also establishes a safe and secure atmosphere that prevents fire accidents.
The Healhcare facilities' Fire and Life Safety being a vast subject , in the interest of citizens to understand a bit of it and to provoke the building design and maintenance professionalsto take a lead/cue from this Blog to ensure there is a cohesive approach and no compromise on the subject of safety be made.
Article Courtesy:
M. V. Deshmukh
Former Director & Fire Advisor Government of Maharashtra.
Presently Director ( Govt Affairs) Fire Safe India Foundation.